The purpose of this article is to explain why the new Washington state Common Core test, called SBAC (pronounced S-BACK) is extremely harmful to our children - and provide you with specific information on how you can opt your kids out of this monstrosity. New York students have been dealing with Common Core tests for a couple of years now. Here is how one New York student described the Common Core test she had to take.




During the past 20 years, Washington tax payers have spent hundreds of millions of dollars on a series of disastrous and harmful high stakes tests. These included the WASL test and the MSP test. Look at how one Third Grade child described the WASL test: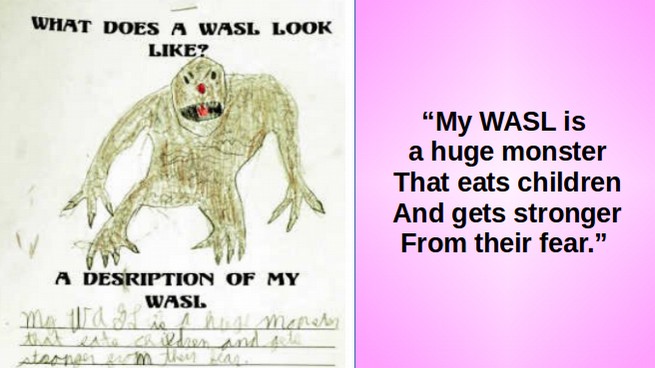 The same corporate interests (and even many of the same people... see here) who produced these prior test disasters are back again with the SBAC test – looking to make even more money by harming even more of our children. Shocking as it may seem, the SBAC test is much worse than any previous test. SBAC is the first test that has been specifically designed to unfairly label more than half of the students in Washington state as failures. Just look at the following chart which was posted on the SBAC and OSPI websites in the fall of 2014: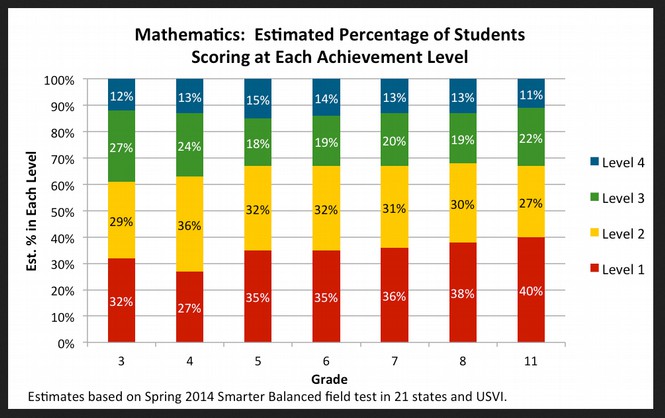 Only the blue and green bars are considered "passing." Levels 1 and 2 are considered to be "failing." So the SBAC test will declare 61% of Washington's 80,000 Third Graders to be failures this summer. That is more than 48,000 children whose lives will be permanently harmed by being labeled failures. For comparison, the prior WASL test only labeled 31% of Third Graders as failures in 2008 and the MSP only labeled 35% as failures in 2013.



What makes the SBAC failure rate even more despicable is that Washington State students are among the highest achieving students of any students in the nation and even in the world. In 2013, the national average math score for 4th graders was 241. Washington students scored 246 – one of the highest average scores the nation. 86% of Washington Fourth Graders scored at Basic (Grade Level) or Above on the 2013 National Assessment of Educational Progress (NAEP) math test. The NAEP test is the longest running and best researched test in the nation. So only 14% of our 4th Graders were below grade level in 2013. For more information on how well Washington state students have done on national tests, see here.

Check out this chart: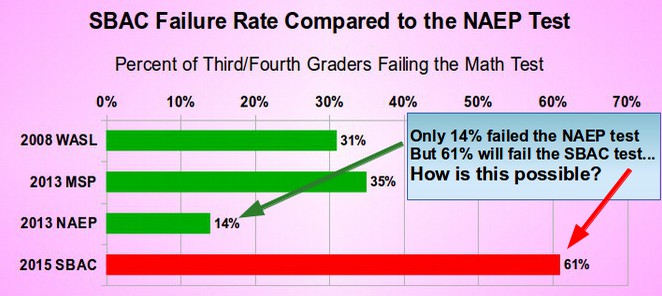 Notice that the failure rate on the 2015 SBAC test (61%) will be more than four times higher than the percent of students who are below grade level on the 2013 NAEP test (14%). Put another way, of Washington's 80,000 Third Graders, only 10,000 are below grade level. But 48,000 will be unfairly labeled as failures by the SBAC test. This means that 38,000 Third Graders who are actually at or above grade level will be told they are failures! This is a crime against our children. Our kids are not failures. It is the SBAC test that is a failure! The reason the SBAC test is a failure is because it is unfairly labeling students as failures who are at or above grade level.